Who Do You Trust In Your Backyard?
Licensed - Bonded -Insured
Pure Water Pool & Spa holds a C53 Pool Builders license with the state of California.  We are licensed to perform any above or below ground repairs on your pool or spa.
Pure Water Pool & Spa carries a $3 million liability policy.
Pure Water Pool & Spa carries Worker's Compensation Insurance and Commercial Automobile Insurance for all it's employees.
Competent - Complete - Reliable
All Pure Water Pool & Spa technicians are employees -- no sub contractors.
All Pure Water Pool & Spa employees hold valid CPO (Certified Pool Operators) Certificates.
All Pure Water Pool & Spa employees are paid by the hour, not by the stop or by the job.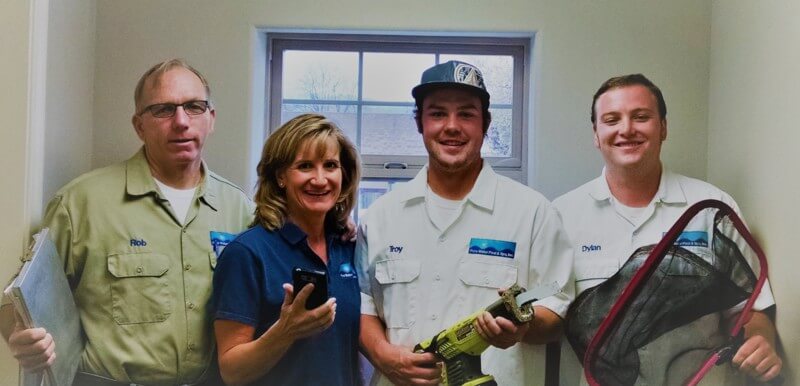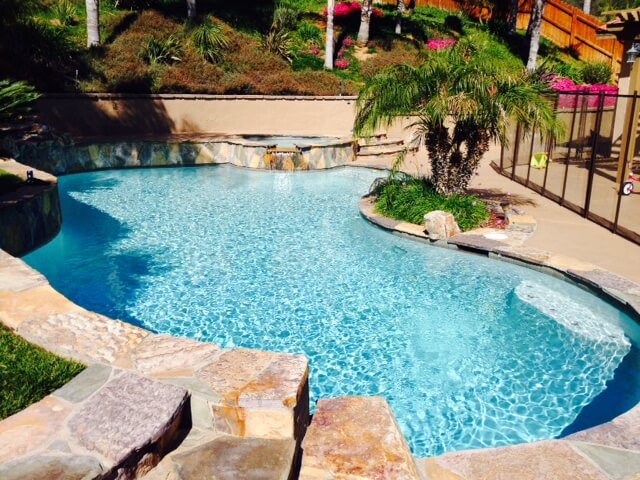 Contractor License: 883611
Things to Consider When Hiring a Service Company
How much use does your pool receive and who is using it.  Do your children spend every day playing in the pool during the warm months, or do you only occasionally use the spa, does your dog swim daily, or is the pool from when your children were growing up and now it just never gets used? Each of these scenarios is different and the needs of your pool will be different for each one.  Does the respective pool service technician understand how to keep an appropriate chlorine residual in the water to keep it safe?
What is your backyard ecosystem?  Do you overlook a canyon and your pool has a constant breeze across the surface?  Or do you have large pine trees or palm trees that deposit debris in your pool?  Or is the pool in shade or sun all day? Are you near the beach or inland?  Each of these environments will require a unique approach to pool maintenance.
What equipment do you have?  Do you have solar?  Automation?   More than one pump?  Is your pool's sanitation system salt based?  All these systems take knowledge by your service technician to ensure your pool is functioning properly.
Does the Service Company you are considering utilize sub-contractors or is the person who will be servicing your pool an employee of the company?  If they use sub-contractors who is responsible if a problem arises?   How is the service technician compensated – by the pool, so their motivation is to "net and jet", or by the hour, so they make more money the longer they are servicing your pool.  Please be aware, if a sub-contractor is not paid by the Service Company, yet you have paid the Service Company – you could be held liable for any unpaid monies owed the technician.
Does the Service Company carry Worker's Compensation Insurance?  If the technician is injured (he/she twists her ankle while in your backyard) who is responsible?
Is the Service Company licensed to perform the work you have hired them to do?  A D35 license allows a company to repair equipment where the invoice is greater than $500.  A C53 license allows a company to perform needed equipment repairs, but also to make any needed underground repairs – leaks, skimmers, drains, etc.  You can check with the California Contractor's State Licensing Board to confirm which license, if any, is held by a potential Service Company.  CSLB Check a License
What sort of additional education do the technicians have – are they Certified Pool Operators (CPO's), have they passed a water chemistry test, do they attend manufacturers' training courses?  Does the Service Company have a Repair Technician who can make needed repairs to your equipment or will you need to hire a separate company if the need arises?  Do you get a discount from the Service Company for labor on repair jobs compared to non-service customers?
Is your equipment new, old, or somewhere in between?  Is it located close to the pool or very far away?  Is the access to your backyard, pool, and equipment simple or challenging?  Can a service technician walk safely all the way around your pool?  How long are you running your pool's filtration system each day?  All of these impact the cost of service and the ongoing expenses of maintaining your pool.
As you can see there is more than just dropping in some chemicals and netting out the pool when it comes to protecting your family, friends, and investment in your backyard.  As I like to say, you can purchase a pre-packaged sandwich from the local quick market where you get gas or you can purchase a pre-packaged sandwich at Starbucks.  Both are pre-packaged sandwiches, but the quality of each is quite different.
"Laura and Rob are a great team providing excellent services.  Needed service on my 30-year old custom inground spa equipment that had been serviced sporadically by different people. Based on Yelp reviews I pick Pure Water and was not disappointed!  Response was quick and diagnosis thorough and fair. Entire system was trouble shot and new equipment that was just right for the system without any up sale. Rob really knows the trade and is a master at equipment installation, service and programming controls. Next time I need anything Pure Water will be my first call!"   
-April H.
"By far the best pool person I inteviewed. I just came back from Afghanistan and wanted the best person for the job and have not been dissapointed at all and he far exceeds all expectations. Up front and honest, I am very happy I chose Robert to take care of my pool. He redid the whole system and does maintenance for my pool as well. Take it from me, a Bronze Star award winner, choose Robert and you will not be let down!"
- David J.
"Based on reviews here on Yelp I called Pure Water to look at my pool assuming it needed to be drained, acid washed and refilled.  Robert came out and checked out the pool and told me to contact the contractor who replastered the pool back in 2010 because the calcium spots looked like breaches in the plaster allowing calcium from the underlying gunite.  I called the contractor and am now getting the pool redone with a huge discount.
Thank you so much for your valuable advice Robert and the next time I need help with the pool you will be the first call that I make and will refer you to the neighbors with pools."
-Jack G.