Regular Pool Maintenance Services
Maintaining an inviting and safe pool takes more than simply dropping in a chlorine tab or pouring in some liquid chemicals.  No two pools are alike -- your pool's use, backyard ecosystem, and configuration is unique to you and your family.  Because of this we have a variety of service programs to choose from to meet your individual needs, desires, and budget.
Weekly Service
Starting at $180 per four week billing period
This program is designed for pools with very high bather loads or for back yards that have a tremendous amount of landscaping that finds its way into the pool. 
Bi-Monthly Service 
Starting at $120 per four week billing period
This is, by far, our most popular option and most pools in San Diego can be maintained properly with this plan.   
Once a Month Service
Starting at $70 per four week billing period
If your pool gets very little debris or you no longer use your pool this may be the best option for you.  This plan will require some work on your part between visits if we have a rainy or windy weather pattern and the skimmer and pump baskets get full. 
Automatic Cleaner Service 
If your pool does not have a pool sweep we will install one for you.  The cleaner is owned and maintained by Pure Water Pool & Spa but it lives in your pool for as long as you are a service customer.
There is a nominal $10 per month additional cost for this service.  The retail value of the installed cleaner is over $400.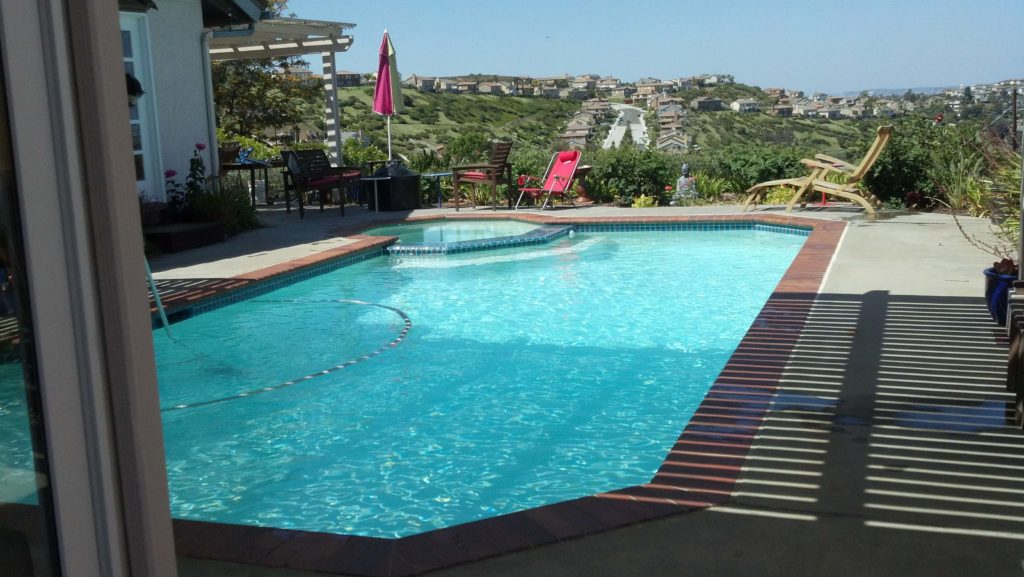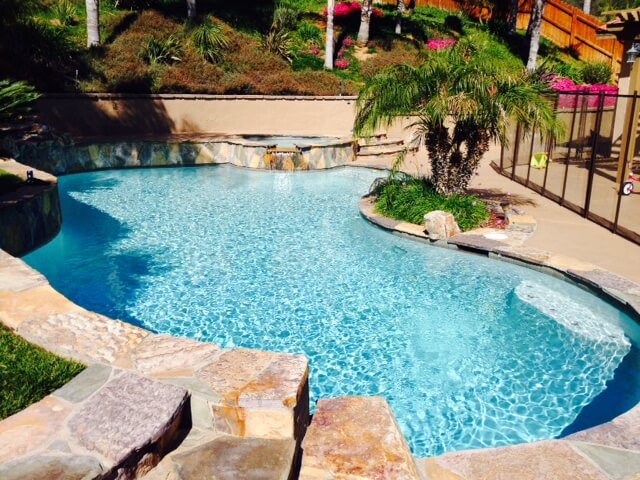 "Laura and Rob are a great team providing excellent services.  Needed service on my 30-year old custom inground spa equipment that had been serviced sporadically by different people. Based on Yelp reviews I pick Pure Water and was not disappointed!  Response was quick and diagnosis thorough and fair. Entire system was trouble shot and new equipment that was just right for the system without any up sale. Rob really knows the trade and is a master at equipment installation, service and programming controls. Next time I need anything Pure Water will be my first call!"   
-April H.
"By far the best pool person I inteviewed. I just came back from Afghanistan and wanted the best person for the job and have not been dissapointed at all and he far exceeds all expectations. Up front and honest, I am very happy I chose Robert to take care of my pool. He redid the whole system and does maintenance for my pool as well. Take it from me, a Bronze Star award winner, choose Robert and you will not be let down!"
- David J.
"Based on reviews here on Yelp I called Pure Water to look at my pool assuming it needed to be drained, acid washed and refilled.  Robert came out and checked out the pool and told me to contact the contractor who replastered the pool back in 2010 because the calcium spots looked like breaches in the plaster allowing calcium from the underlying gunite.  I called the contractor and am now getting the pool redone with a huge discount.
Thank you so much for your valuable advice Robert and the next time I need help with the pool you will be the first call that I make and will refer you to the neighbors with pools."
-Jack G.