One Time Cleaning Services
There are a number of specialty cleaning services we offer.
Green to Clean 
-- 
$500-750 plus a filter cleaning(s).
Algae happens.  Rain, hot weather, phosphates, insufficient filtration time, vegetation, and pets can all lead to an algae bloom.  We can help. Each situation is unique, but generally the cost is $500-750 plus a filter cleaning(s).
Drain and Acid Wash 
-- 
3 day service is $800-1200.
If your plaster surface is stained or calcified an acid wash may be the service you need.  A typical acid wash takes 3 days, one to drain, one to perform the acid wash, and then after the pool has been re-filled, a final day to re-balance the water chemistry.  For a standard size pool/spa combo the cost for this 3 day service is $800-1200.
Drain and Chlorine Wash -- 3 day service is $800
This is a less aggressive process than an acid wash and may be all your pool needs to bring back the sparkle.  This also takes 3 days and for a standard pool/spa combo the cost starts at $800.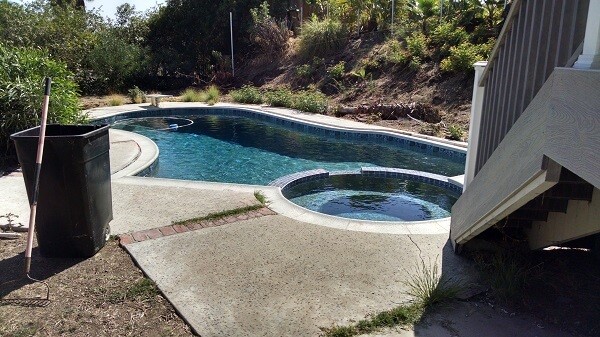 "Laura and Rob are a great team providing excellent services.  Needed service on my 30-year old custom inground spa equipment that had been serviced sporadically by different people. Based on Yelp reviews I pick Pure Water and was not disappointed!  Response was quick and diagnosis thorough and fair. Entire system was trouble shot and new equipment that was just right for the system without any up sale. Rob really knows the trade and is a master at equipment installation, service and programming controls. Next time I need anything Pure Water will be my first call!"   
-April H.
"By far the best pool person I inteviewed. I just came back from Afghanistan and wanted the best person for the job and have not been dissapointed at all and he far exceeds all expectations. Up front and honest, I am very happy I chose Robert to take care of my pool. He redid the whole system and does maintenance for my pool as well. Take it from me, a Bronze Star award winner, choose Robert and you will not be let down!"
- David J.
"Based on reviews here on Yelp I called Pure Water to look at my pool assuming it needed to be drained, acid washed and refilled.  Robert came out and checked out the pool and told me to contact the contractor who replastered the pool back in 2010 because the calcium spots looked like breaches in the plaster allowing calcium from the underlying gunite.  I called the contractor and am now getting the pool redone with a huge discount.
Thank you so much for your valuable advice Robert and the next time I need help with the pool you will be the first call that I make and will refer you to the neighbors with pools."
-Jack G.